"What a group. Unbelievable." That's what Steve Jones of the Sex Pistols said about British punk band Ian Rubbish & the Bizarros.
Ever heard of them?
The band isn't real, but they made some pretty real music.  Led by real-life musician Fred Armisen (he's played for Les Savvy Fav and Trenchmouth) as the fictional Ian Rubbish, the group appeared in a pretty funny "History of Punk" sketch on "Saturday Night Live." (Watch it here.)
A four-song EP called "The Best of Ian Rubbish" includes "Maggie Thatcher," "Sweet Iron Lady," "Living in the Gutter," and "Hey Policeman!" and you can download them at www.ianrubbish.co.uk.
Anyway, The Bizarros' Spinal Tap-like tale inspired me to have a look at my favorite fake artists that made real music. Some of them are kind of bad and others have some pretty good chops, and all of them are entertaining. (Listen to all of them with this Spotify playlist.)
Dewey Cox

As a takedown of biopics such as "Ray" and "Walk the Line," "Walk Hard: The Dewey Cox Story" succeeded on a lot of levels, especially in its takedowns of . But to hell with the movie. The best part is the soundtrack (a full 30 songs in the iTunes edition), which has John C. Reilly singing rockabilly, space rock, protest music, psych rock and disco. They are near-perfect spoof of every era they go for, and the protest music (say "Dear Mr. President") are so horribly misguided that I can't help but laugh hysterically.
Spinal Tap

No list of fake bands is complete without these guys, who precede every other entry. The amazing thing about Spinal Tap is not "This Is Spinal Tap," but the fact that the band – Michael McKean as David St. Hubbins, Christopher Guest as Nigel Tufnel and Harry Shearer as Derek Smalls – has produced more records, gone on tour and continue to make appearances (such as Shearer joining Fall Out Boy during a Spinal Tap send-up). McKean, Guest and Shearer even opened for Spinal Tap as The Folksmen, a parody folk trio.
Infant Sorrow

"Forgetting Sarah Marshall" was pretty dang funny and one of the more subversive plot elements was Russell Brand's turn as ultra-famous rock star Aldous Snow, bandleader of fictitious group Infant Sorrow. And yeah, there was "Get Him to the Greek," which was amusing, but less funny and had a plot about getting Snow to Infant Sorrow's reunion. From the first film, "Inside of You" is a well-made love ballad with a really inappropriate message. The second movie produced an entire soundtrack of new Infant Sorrow songs including "Bangers, Beans and Mash," another ballad about regular stuff like the train and food.
Sex Bob-Omb

Garage rock is excellent and this fake band, from "Scott Pilgrim Vs. the World" (and the comics that preceded it), made some real (and really good) songs. They're short, packed jams that fit on any mix of The Strokes, Jay Reatard and the Black Lips. Fans of the comics know that the real songs from the movie's soundtrack were taken from the comics. And the comics even laid out the chords, progression and lyrics for those that want to learn.
The Wonders

We all heard "That Thing You Do!" about a thousand times in the movie of the same name. (Actually, it's only nine times. Seemed like more, right?) And it's still incredibly catchy. Many know the story, but Fountains of Wayne songwriter/bassist wrote the song before he was in FoW. He had a song publishing contract and was approached about trying his hand at a '60s-era, Beatles-style track. The Wonders (known as The Oneders for a portion of the movie) recorded five different songs for the movie, and they're actually all pretty good.
Stillwater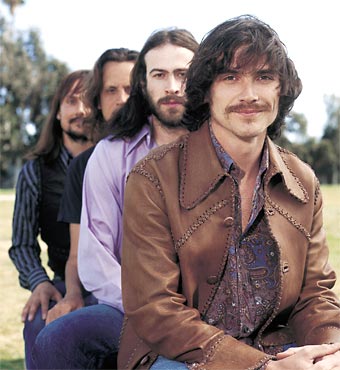 When William Miller hits the road to follow a band (and write about it for Rolling Stone) in the movie "Almost Famous," the band was the "incendiary" Stillwater (portrayed by Jason Lee, Billy Crudup and others). They played some actual Southern rock-infused jams, including "Fever Dog." Nancy Wilson, Peter Frampton and the film's director, Cameron Crowe, wrote all of the band's songs for the film.
Citizen Dick
In the movie "Singles," Matt Dillon's character, Cliff, has the band Citizen Dick, which also includes Stone Gossard, Jeff Ament and Eddie Vedder of Pearl Jam. The band didn't release songs on the soundtrack (which is an excellent smattering of '90s grunge), but Chris Cornell took it as a challenge to write songs that fit the ridiculous titles someone came up with for the fake band's album, "Touch Me, I'm Dick." The result was "Spoonman," which we all can agree is pretty dang good.
Dr. Teeth and the Electric Mayhem

The Muppets' house band takes about a dozen puppeteers (and several more musicians) to come to life. But throughout the fuzzy puppet troupe's history, the Electric Mayhem have recorded several great songs, and some of them are actually pretty heavy-hitting, too. One of my favorites is "Tenderly," a track from "The Muppet Show." The band also appears frequently on Muppets soundtracks.
Dethklok

The metal gods from the hilarious cartoon, "Metalocalypse," are a joke in the show, and they're so popular that the band alone has the seventh largest economy in the world (and billions of fans). Brendon Small is the creator and executive producer of the show (and voice of bandleader Nathan Explosion) and he also makes all of the band's music. He then decided to make Dethklok into a real band with experienced musicians such as Gene Hoglan and Mike Keneally. They've also released three albums: "The Dethalbum," "Dethalbum II" and (naturally) "Dethalbum III."
Comments
comments
Powered by Facebook Comments